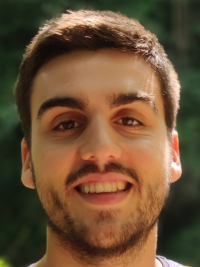 Tiago Picanco Castanheira Da Silva
Tiago Silva obtained his Master Degree in Biological Engineering in December 2017 from Instituto Superior Técnico (IST, Lisbon, Portugal). During his studies he did two internships in Faculdade de Medicina Veterinária (Lisbon, Portugal) where he assisted in African Swine Flu virus research where he learned about cell culture and vaccine development. He joined Marcel Ottens' group in TU Delft (Delft, The Netherlands) for his Master's End Project, having the opportunity to study the diffusion of proteins using a microfluidic device. After graduating he joined Institute for Bioengineering and Biosciences, iBB (Lisbon, Portugal), as a research fellow working on microfluidics chromatographic steps for the development of a separation technique for the purification of antibodies. He later joined Jerónimo Martins, a retail company in Portugal where he mainly worked as a Perishables Engineer. In May 2019 he re-joined Marcel Ottens' group in TU Delft as an Early Stage Researcher (ESR) in the framework of the Marie Skłodowska-Curie Innovative Training Networks project CODOBIO.
Research Focus:
Development of a High Throughput Screening (HTS) platform for the study and optimization of a continuous chromatographic step for the purification of monoclonal antibodies.