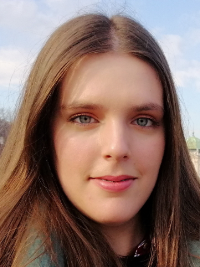 Mariana Neves Sao Pedro
Mariana Neves São Pedro received her Bachelor's Degree in Biochemistry from Faculdade de Ciências da Universidade de Lisboa (FCUL), followed by her Master's Degree in Biotechnology from Instituto Superior Técnico (IST). Her thesis, titled "Minimizing the influence of fluorescent tags on protein partition in aqueous two-phase systems for rapid screening applications", under the orientation of Professor Dr. Raquel Aires-Barros and Dr. Ruben Soares, was published in Biotechnology Journal (doi: 10.1002/biot.201800640). After graduation, she continued her work in Professor Dr. Raquel Aires-Barros' group, performing microfluidic studies of different chromatographic conditions and resins for the purification of antibodies fragments. Recently she joined the CODOBIO network and has been awarded a Marie Skolodowska-Curie actions PhD fellowship at Technische Universiteit Delft (TU Delft) under the supervision of Professor Dr. Marcel Ottens and Professor Dr. Michel Eppink.
Research Focus:
Development of a biosensing microfluidic chip prototype for fast in line process analytical technology (PAT) for the detection of high molecular weight (HMW) species during a continuous downstream process of monoclonal antibodies.